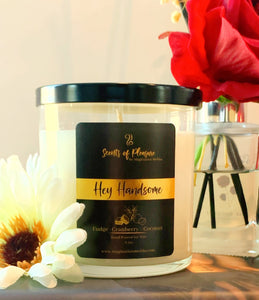 Hey Handsome was inspired by the sexy handsome guy everyone dreams of. Smells of dark fudge, appealing cranberry and smooth coconut. Yes! Dark, appealing and smooth is what this candle smells like - A Handsome Man!  Get you one! 

NEW Formula All Natural Virgin Coconut Soy Candle 
Wooden wick
Toxin-free and phthalate-free
Skin Safe - Doubles as massage oil when melted
Hand-poured in small batches
Size: 8.5 oz
Burn time: approx. 55 hours
 All candles are handcrafted, slight variations are expected.