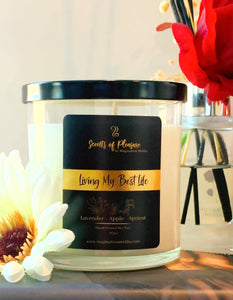 Scents of Pleasure "Living My Best Life" is made of top notes lavender, apple, pomelo and apricot. This is a great Spring scent and simply a pleasure. 
NEW Formula All Natural Virgin Coconut Soy Candle 
Wooden wick
Toxin-free and phthalate-free
Skin Safe - Doubles as massage oil when melted
Hand-poured in small batches
Size: 8.5 oz
Burn time: approx. 55 hours 
For maximum scent this candle is ideal for small to medium size rooms. Example bathroom, foyer, or small bedroom.
 All candles are handcrafted, slight variations are expected.