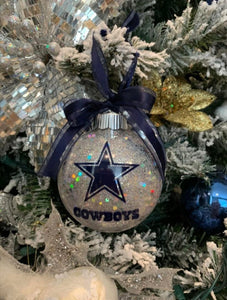 3.5" Plastic Christmas Disc Ornaments
This is the perfect ornament for a true Dallas Cowboy's fan! This ornament is shatterproof with silver glitter on the inside. This would be the perfect addition to your Christmas tree. Also available in other teams. This is a disc shape ornament. slightly flatten on the sides. 
Can be customized to your favorite team.
Not exclusive to just football.
Allow 3-5 days for processing 
Please note: Item is handmade and may contain slight imperfections.